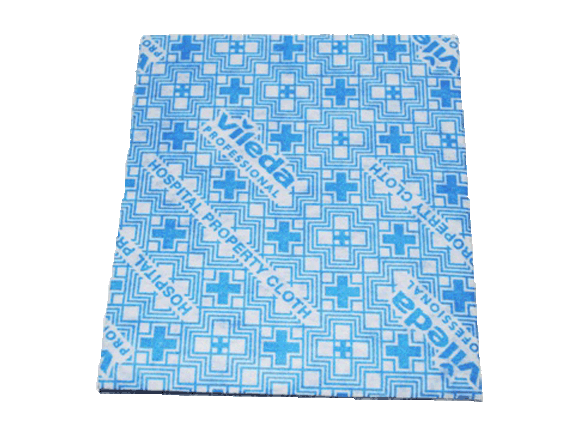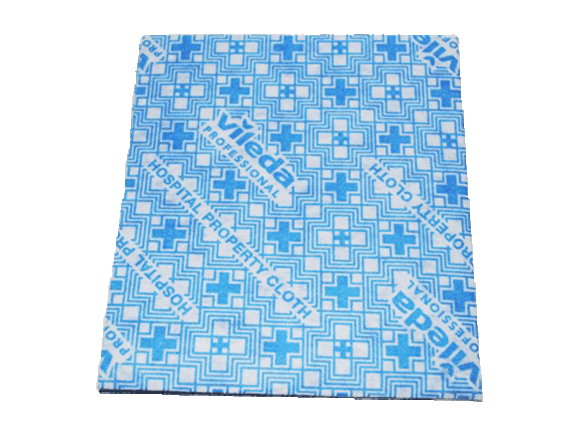 Hospital Property Cloth
Hospital Property Cloth
Hospital Property Cloth
Hygienic Unlike woven and open-structured cloths where dirt becomes trapped in the open weave, dirt particles are unable to penetrate the non-woven cloth surface and are easily rinsed away.
Updated to contain silver During production silver is added to the cloth and during use when these silver ions come into direct contact with bacteria and germs, they inhibit their growth by 99.99%. Printed with updated pattern and text 'Hospital Property Cloth' so easily identifiable to avoid pilfering.
Product benefits
Highly efficient and durable Leaves a smear free surface after wiping, removing the requirement for a second wipe to dry the surface.
High wet and dry strength for a long, hard wearing life.
Closed structure resists tearing and snagging.
Machine washable 50 times and auto-clavable for repeated use
Large and bulky making it easy to handle and gives optimum surface coverage
Colour-coded (Blue, Red, Green and Yellow) to reduce the risk of cross-contamination
| Description | Color | Size (cm) | Art.no Case | Packs/case | Art.no. Pack | Pieces/pack |
| --- | --- | --- | --- | --- | --- | --- |
| Hospital Property Cloth | blue | 44 x 37 | 106407 | 20 | 108439 | 5 |
| Hospital Property Cloth | red | 44 x 37 | 106408 | 20 | 108440 | 5 |
| Hospital Property Cloth | green | 44 x 37 | 106409 | 20 | 108441 | 5 |
| Hospital Property Cloth | yellow | 44 x 37 | 106410 | 20 | 108442 | 5 |