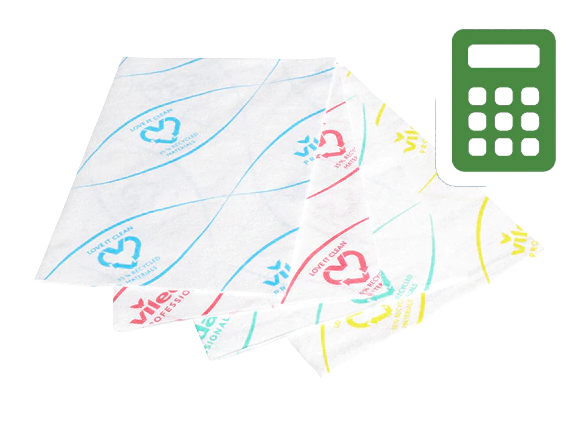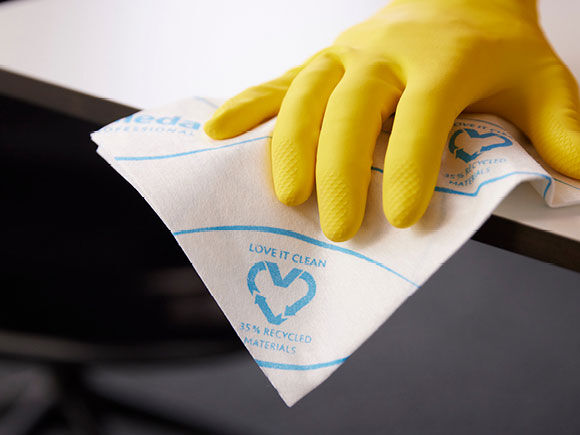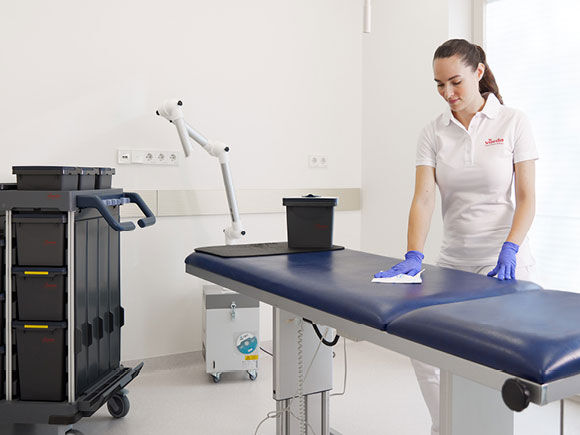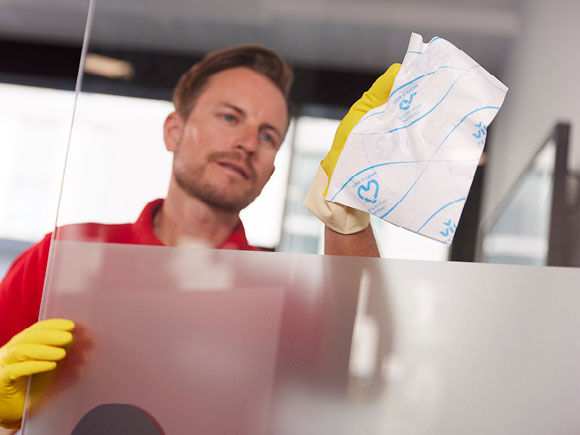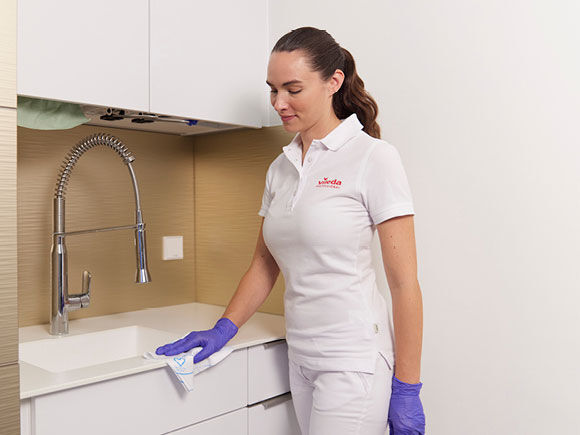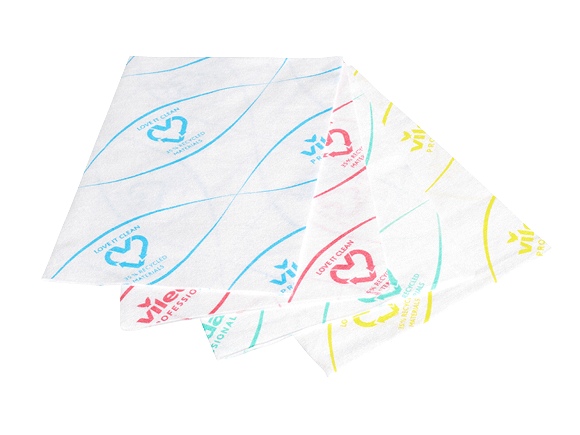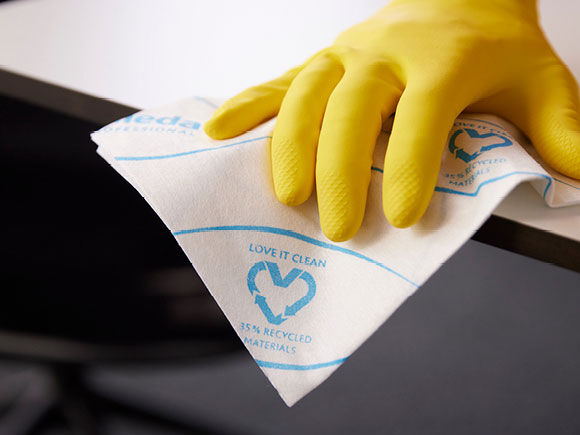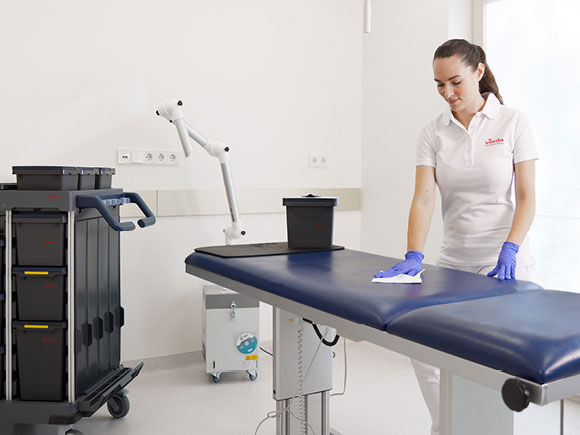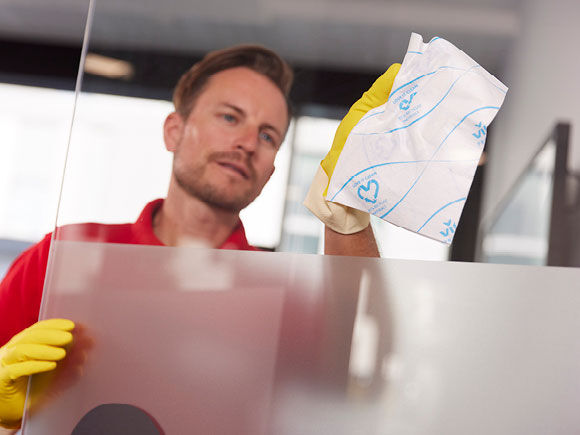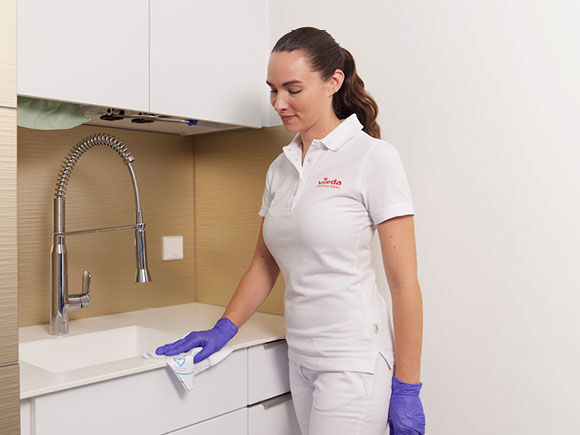 r-MicronSolo
Our best performing recycled single use wipe for hygienic cleaning and excellent cleaning results
r-MicronSolo is Vileda Professional's single use cleaning cloth made from 35% recycled materials. Due to its advanced micronfibre technology, it offers an effective and rapid cleaning of high-risk areas. The highly absorbent cleaning cloth especially suits demanding cleaning tasks in hygienically sensitive areas due to its proven ability of bacteria and virus removal by 99.99% on all surfaces.
r-MicronSolo's single use character helps you to avoid the risk of cross-contamination. The colour coding system R/B/G/Y allows a simple differentiation of the wipes and therefore accommodates a cleaning process according to hygiene standards and HACCP principles. The very high absorbency function of r-MicronSolo allows you to clean big spills in one wipe and furthermore removes even grease dirt from delicate surfaces like ceramics or glass.
Benefits of the r-MicronSolo at one glance:
99.99% virus and bacteria removal – certified by an independent test institute
Superior micronfibre cleaning performance
Maximum single use hygiene
Made from 35% recycled PES
Very high absorbency for good spill pick up in one wipe
Efficient dirt removal – even of grease dirt
Colour coded
Use the r-MicronSolo with cleaning detergent or with just water, depending on the dirt you want to remove. Order your r-MicronSolo cleaning cloths now!
Superior cleaning performance combined with sustainability
r-MicronSolo is labelled with our "Love It Clean" logo. This label highlights our products made out of recycled materials and helps our customers to follow our ambitions for reducing waste, and our commitment to increase recycling and safety. The focus of our ambitions lays hereby on three main areas: we want to create products that last, while using recycled materials and designing out waste altogether.
As a global leader in cleaning solutions, we firmly believe that every product we develop must contribute to a sustainable future. We constantly strive for superior systems and services that make our customers' daily work easier, more efficient and support global sustainability. Find out more about our whole recycled wipe selection for best sustainable results in the cleaning process. Get in contact with us for further product information and support!
| Description | Color | Size (cm) | Art.no Case | Packs/case | Art.no. Pack | Pieces/pack |
| --- | --- | --- | --- | --- | --- | --- |
| r-MicronSolo | blue | 30 x 40 | 170342 | 5 | 170343 | 100 |
| r-MicronSolo | red | 30 x 40 | 170344 | 5 | 170345 | 100 |
| r-MicronSolo | yellow | 30 x 40 | 170346 | 5 | 170347 | 100 |
| r-MicronSolo | green | 30 x 40 | 170348 | 5 | 170351 | 100 |