Vileda Professional Download Center – get additional information on our innovative cleaning systems
Vileda Professional Download Center – get additional information on our innovative cleaning systems
As one of the global leaders and distributors of efficient cleaning solutions, we see education as part of our offer. Our goal is to share our knowledge on professional cleaning – this way, our stakeholders, and clients are able to achieve maximum efficiency during their cleaning processes and experience Vileda Professionals quality to its fullest extent. The following section gives you further insights and information material on the correct usage of our innovative cleaning systems.
Please note that our supplementary information material does not substitute any operating instructions or guidance of our Vileda Professional experts. If you have any questions regarding our provided materials or need further assistance, please select your country below and approach us using our contact form.
Please choose your category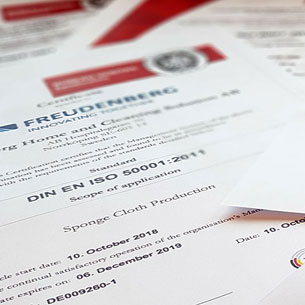 General Information Material
As one of the global leaders in developing and manufacturing efficient cleaning solutions for professional users in various application areas, quality at its best is our standard. Our products as well as our global production units have been awarded according to several ISO-certifications. All our products are individually matched to your demands and needs during the cleaning process. 
Additionally, the majority of our product span has been validated by independent test institutes – we offer only tested quality with proven durability and reliability.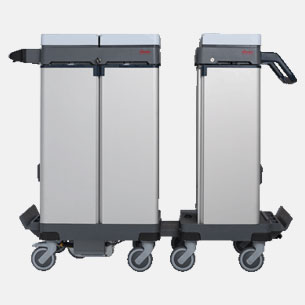 Cleaning Trolleys
With many features and even more configuration options, Vileda Professional's Cleaning Trolley s offer the perfect solution to clean large areas easier and more effective. The economical design of our Cleaning Trolleys is developed for daily cleaning business in which functionality and efficiency are key factors. 
The Cleaning Trolleys from Vileda Professional allow an easy handling of large amounts of cleaning supplies and are suitable to be used along our cleaning products. With Vileda Professional's Trolleys, needed supplies are easy to reach at any time.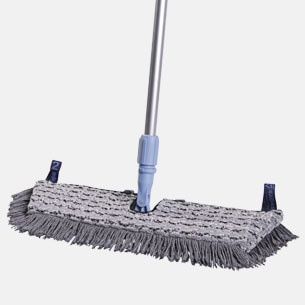 Floor Cleaning
Vileda Professional's supplies for floor cleaning and mopping systems  allow an efficient cleaning in all environments. Vileda Professional developed a comprehensive range of cleaning solutions: From the standard leading Swep pre-prepared system, through to the UltraSpeed Pro, UltraSpeed Mini and SuperMop. 
We guarantee better results and performance by choosing the perfect system for your requirements – depending on size, floor coverings, volume of traffic, hygiene as well as health and safety standards.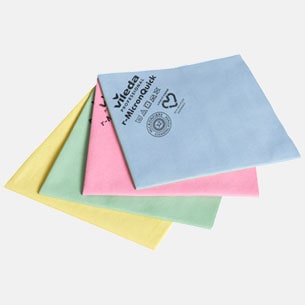 Cleaning Cloths
Vileda Professional's Cleaning Cloths  allow cleaning and sanitizing in one step. Made from high-quality microfibres, many of Vileda Professional cloths are externally certified to remove up to 99.99% of bacteria with just water. When used along disinfection chemicals, you double your protection as you combine removal and disinfection in one efficient process.
With Vileda Professional's Cleaning Cloths, you wipe every surface gently and thoroughly – even greasy and fatty dirt can be tackled with ease without leaving any streaks.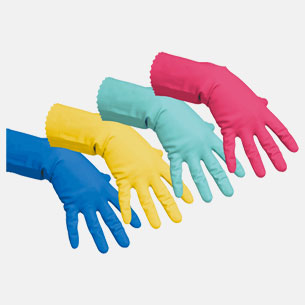 Cleaning Gloves
As a professional employer, the safety of as well as the cleaning staff's protection and health is one of the biggest priorities. Vileda Professional offers a wide range of cleaning gloves , that meet the regulations and standards for personal protective equipment. In order to guarantee the best protection, it is important to select the right glove for the job.
With Vileda Professional's cleaning gloves, you will be able to allow the highest standard of safety while remaining best wearing comfort.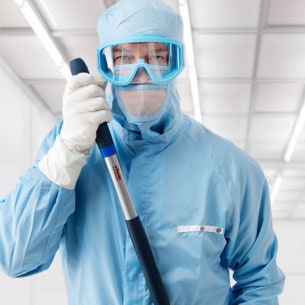 Controlled Environment
Controlled environments like laboratories are enclosed spaces with specific parameters regulated, including temperature, pressure, light, airflow, and segregation. A high standard of hygiene and cleanliness are hereby one of the most important factors. Vileda Professional has introduced a range of systems, designed to keep controlled environments as neat and as safe as possible. 
Our product range includes CE wipes , CE Flat Mops , CE Trolleys  and more, which are ideal to be used in cleanrooms.