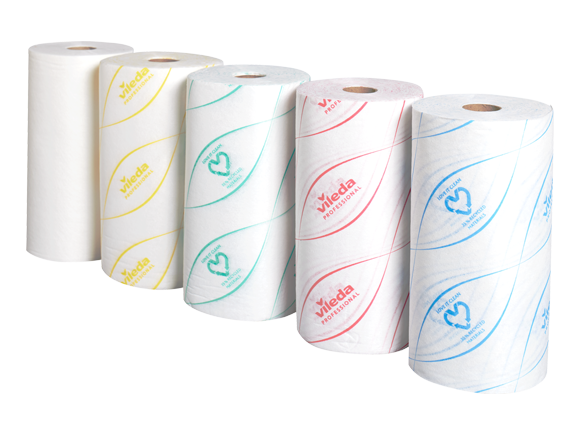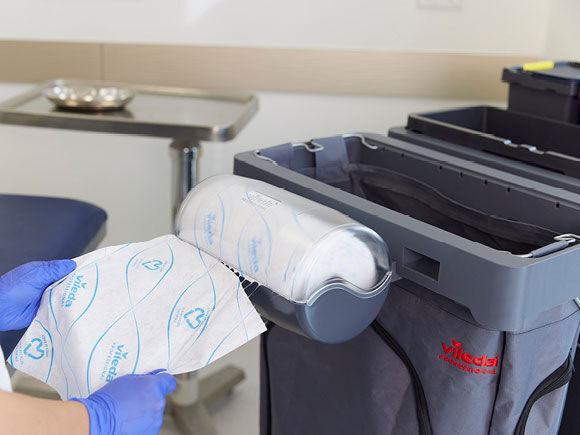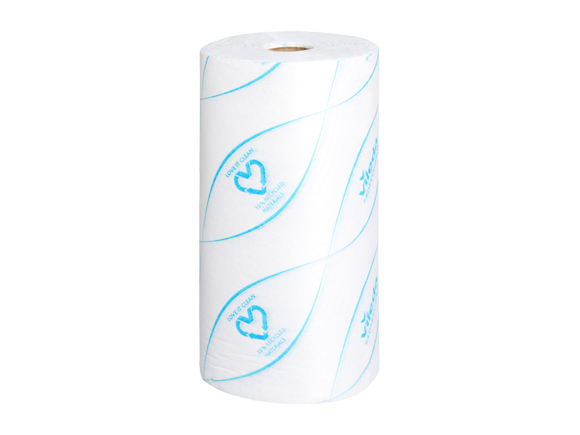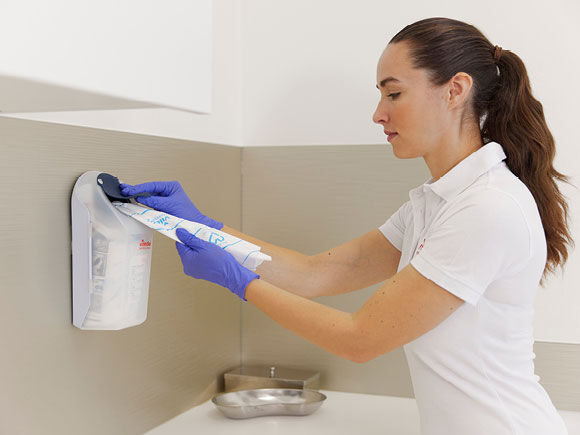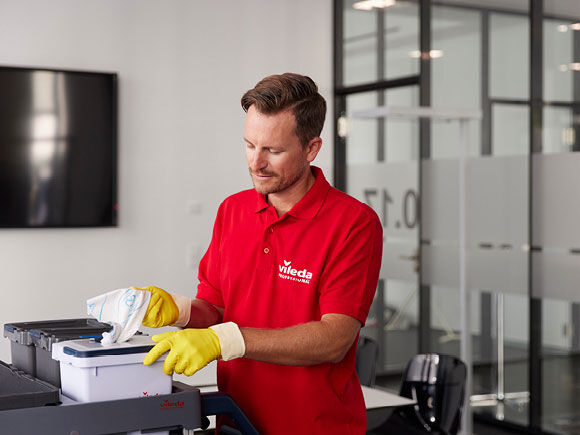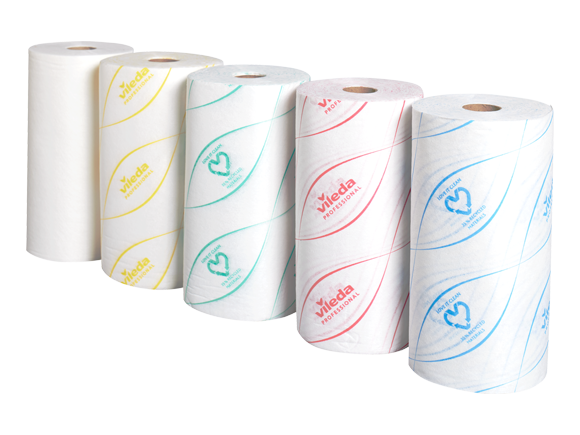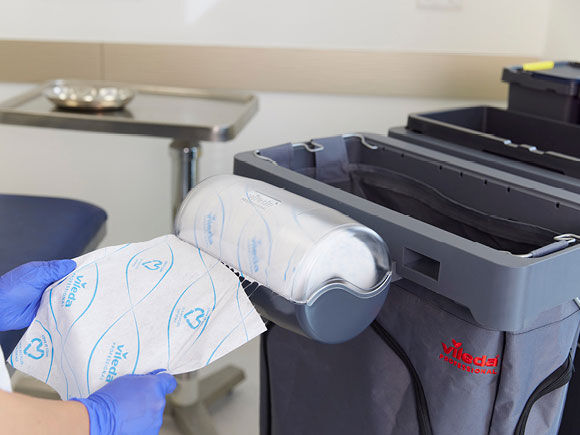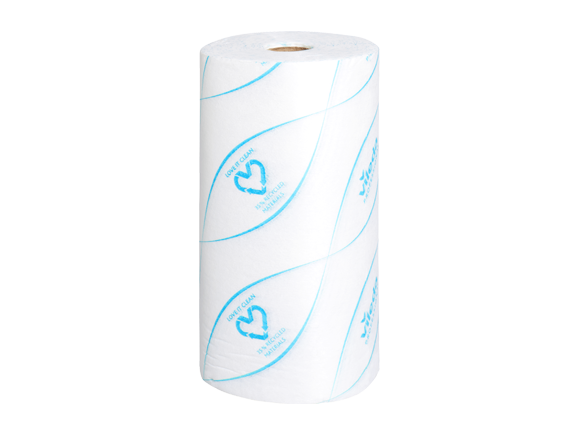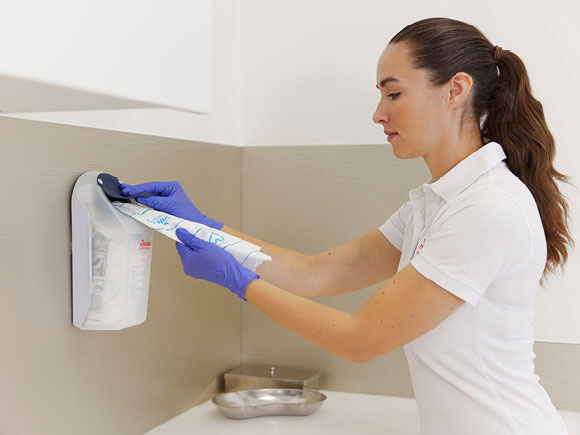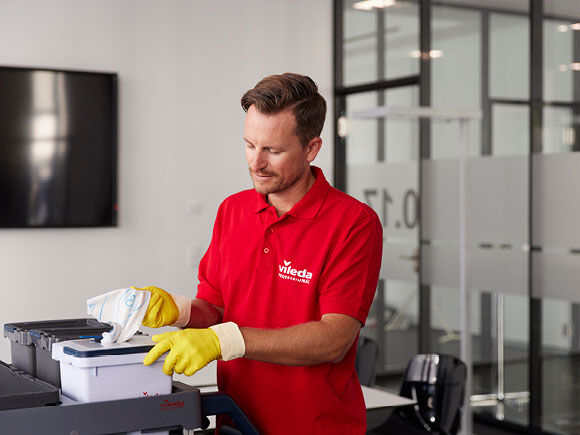 r-MicronSolo Roll
Our recycled micronfibre wipe roll for easy usage and superior cleaning results
r-MicronSolo Roll is Vileda Professional`s 35% recycled micronfibre wipe roll. Due to its practical roll form, easy usage and practical distribution of the wipes in the individual amounts of cloth needed for the cleaning tasks at hand are guaranteed – ideal for professional cleaners' daily work. Made from the finest micronfibre, it offers an efficient and quick streak free cleaning and even removes stubborn, fatty dirt like grease and fingerprints. It is especially suitable for healthcare areas, where a high level of hygiene and cleanliness are required. The highly absorbent viscose fibres allow a very good absorbency of the r-MicronSolo Roll wipes to clean big spills in just a single wipe.
Your benefits of the r-MicronSolo Roll at one glance:
Practical distribution of wipes
Certified removal of 99.99% bacteria and viruses just with water
Superior micronfibre technology for advanced cleaning performance
Single-use hygiene
Made from 35% recycled post-consumer plastics
Good spill pick up due to high absorbency of viscose fibres
High tear-resistance
Efficient removal of fatty dirt
Four colour coding system
The recycled micronfibre wipe roll can be used dry for excellent spill pick up, with plain water, or in combination of your preferred detergent. r-MicronSolo Roll is used best together with Vileda Pofessional's Roll Dispenser for quick and easy handling.
Purchase the r-MicronSolo Roll today and achieve brilliant cleaning performance whilst making your processes more sustainable!
Colour coding system for hygienically sensitive areas
Due to its proven ability to remove 99.99% of bacteria and viruses as well as its single use character, the r-MicronSolo Roll is especially suitable for cleaning procedures in hygienically sensitive areas. Furthermore, the four colour coding system allows a simple differentiation of the cloths, which reduces the risk of possibly harmful cross-contamination. Patient rooms, operation theatres, bathrooms and areas getting in contact with food should all be treated and cleaned according to hygiene standards and HACCP principles – the r-MicronSolo Roll recycled micronfibre wipe roll is the reliable choice for all professional cleaners!
Advanced cleaning performance combined with the r-process by Vileda Professional
r-MicronSolo Roll is labelled with our "Love It Clean" logo which highlights all Vileda Professional products made from recycled materials. Cleaning supplies of this range are part of our ambition to create a more sustainable future by reducing waste and giving materials a second life. Our r-products are made of post-consumer plastics – like PET bottles – which are shredded into small flakes. Afterwards, the flakes are processed into fibres which are then reused as components in our single use wipes and mops. In addition to our goal to create a more sustainable future – by reducing waste and recycling used materials – we continuously strive to develop superior cleaning systems that make our customers' daily work easier and more efficient. That is why all of our recycled products are guaranteed to perform at the same known extraordinary level as before..
Find out more about our whole recycled wipe selection for the best sustainable results in the cleaning process. Get in contact with us for further product information and support regarding our r-MicronSolo Roll and other sustainable products!
| Description | Color | Size (cm) | Art.no Case | Packs/case | Art.no. Pack | Pieces/pack |
| --- | --- | --- | --- | --- | --- | --- |
| r-MicronSolo Roll | blue | 25 x 32 | 170352 | 4 | 170353 | 1 |
| r-MicronSolo Roll | red | 25 x 32 | 170354 | 4 | 170355 | 1 |
| r-MicronSolo Roll | yellow | 25 x 32 | 170356 | 4 | 170358 | 1 |
| r-MicronSolo Roll | green | 25 x 32 | 170359 | 4 | 170361 | 1 |
| r-MicronSolo Roll | white | 25 x 32 | 170362 | 4 | 170363 | 1 |