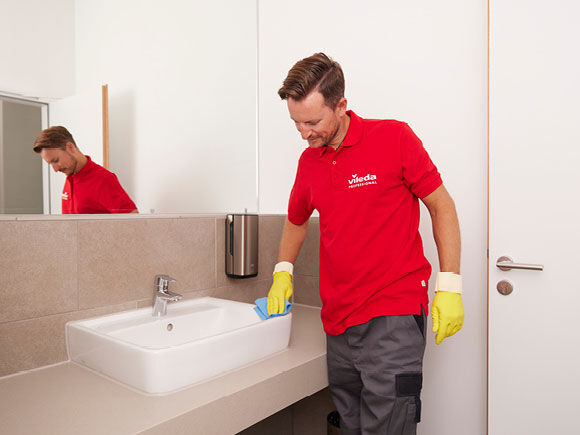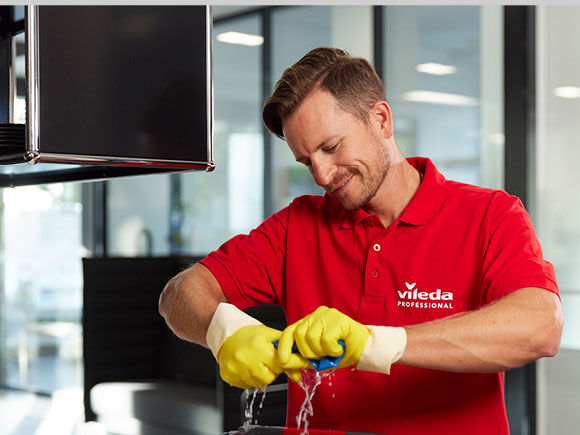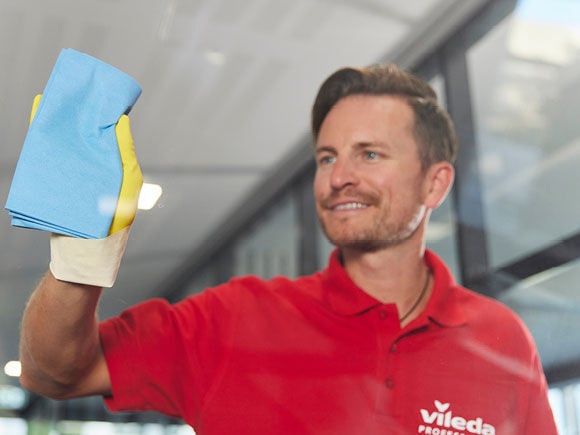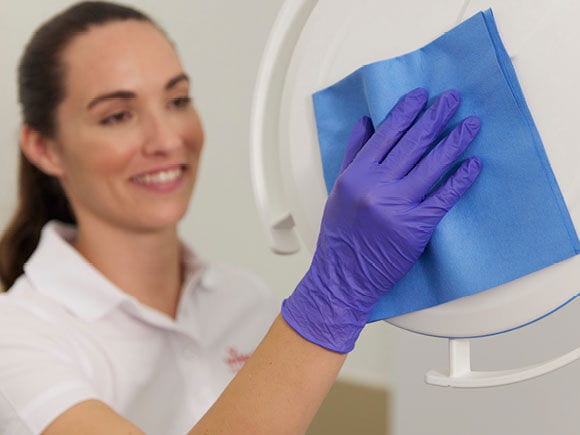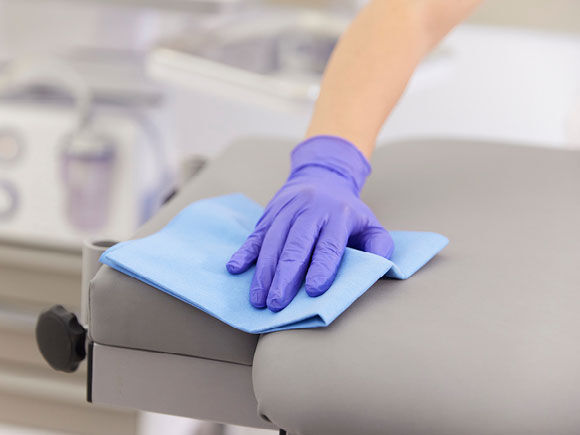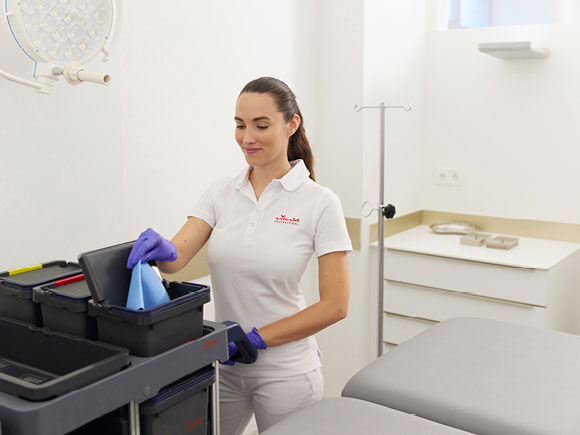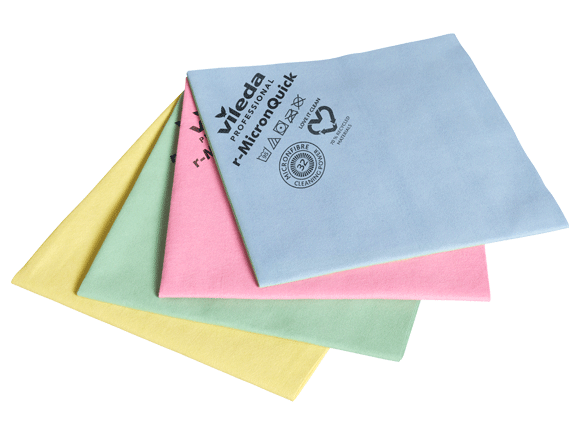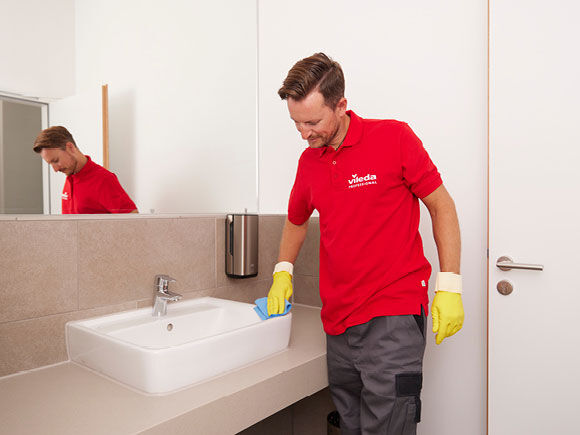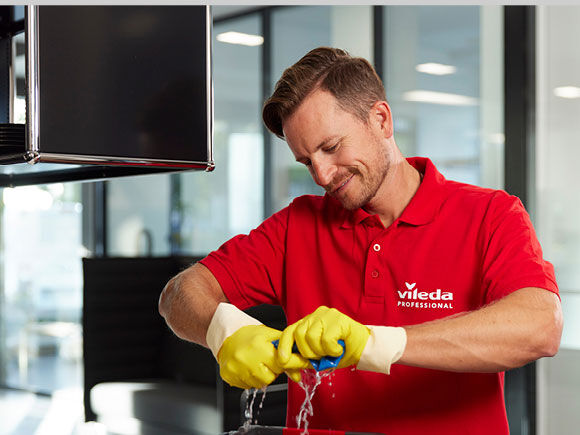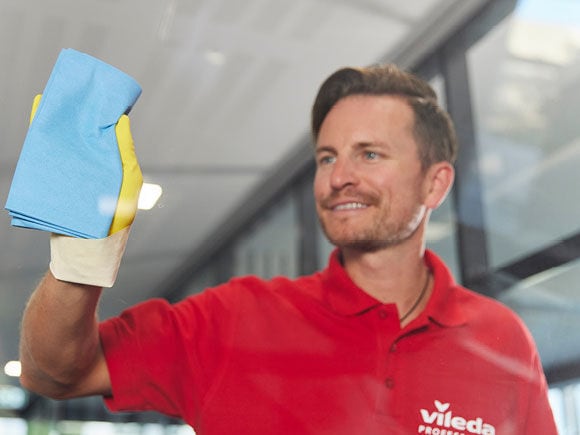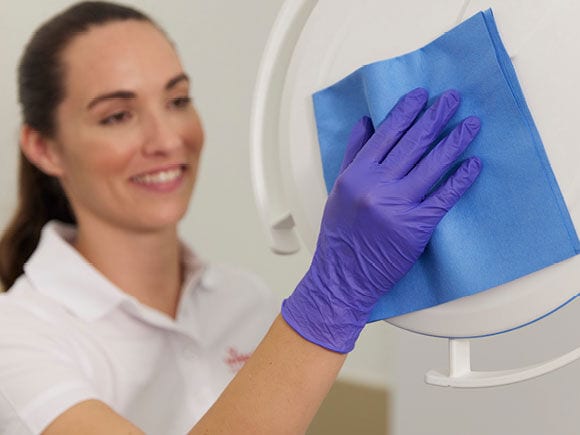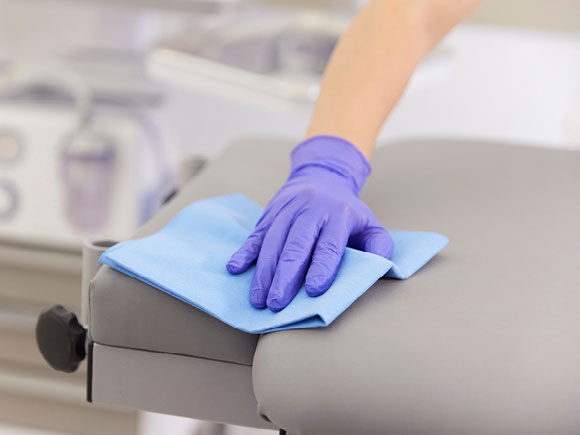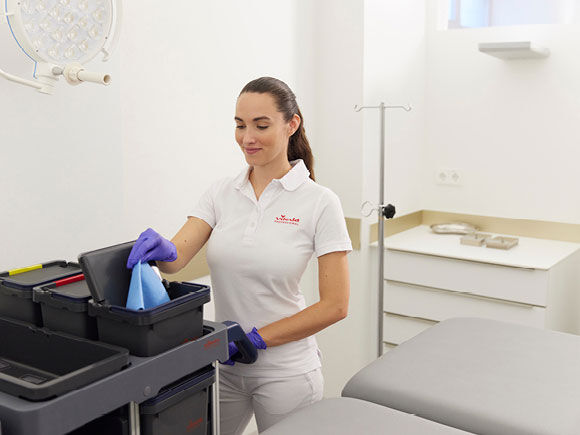 r-MicronQuick
Our recycled washable cleaning cloth for hygiene sensitive areas
r-MicronQuick is Vileda Professional's durable and washable cleaning cloth. The cloth is made from 70% recycled micronfibres, which achieve superior cleaning performance even in microscopic structures and remove up to 99.99% of viruses and bacteria with just water. Due to this, the r-MicronQuick is ideal for healthcare areas, where a high level of cleanliness and hygiene are required. The four colour coding system allows a differentiation of the cloth, which reduces the risk of potential cross-contaminations.
Besides its use in hygienic sensitive areas like canteens, hospitals and patient rooms, the washable cleaning cloth is suitable for a multitude of environments. Wipe every surface such as stainless steel, plastic or ceramic clean in only one wipe without leaving any unpleasant streaks. This multi-use cloth is specifically designed for daily laundering and is ideal for the pre-preparation methods, which sustainably reduce the usage of chemicals, save water and time. The superior washing resistance allows daily use with lint-free cleaning results.
Overview of the benefits of the r-MicronQuick:
As certified by an independent test institute: removal of 99.99% of viruses and bacteria
Rapid and efficient cleaning due to advanced micronfibre cleaning performance
Reusable & high washing resistance: minimum 400 washes
High absorbency
Streak free cleaning
Made from 70% recycled PES
Colour coding system R/B/G/Y
Leading with less – the new recycled durable wipes
r-MicronQuick and r-MicronGlass are Vileda Professional's new recycled washable cleaning cloths. Their reusable character supports our goal and vision of creating a healthier planet. As a global leader in cleaning solutions, we firmly believe that every product we develop must contribute to a sustainable future. That's why we have created a brand-new range of durable wipes that are produced with up to 70% recycled post-consumer plastics. The focus of our washable cleaning cloth r-MicronQuick lies on the superior micronfibre technology – for an uncompromisingly strong cleaning performance and hygiene.
Made for contributing to a healthier planet: Leading with less.
Get in contact with us for further support and information on r-MicronQuick!
| Description | Color | Size (cm) | Art.no Case | Packs/case | Art.no. Pack | Pieces/pack |
| --- | --- | --- | --- | --- | --- | --- |
| r-MicronQuick | blue | 40 x 38 | 170605 | 20 | 170635 | 5 |
| r-MicronQuick | red | 40 x 38 | 170632 | 20 | 170636 | 5 |
| r-MicronQuick | yellow | 40 x 38 | 170634 | 20 | 170638 | 5 |
| r-MicronQuick | green | 40 x 38 | 170633 | 20 | 170637 | 5 |